So I've been baffled by the Absinthe Robette advert for a while now. It seems like such a big glass. So I thought I'd take a stab at just how big: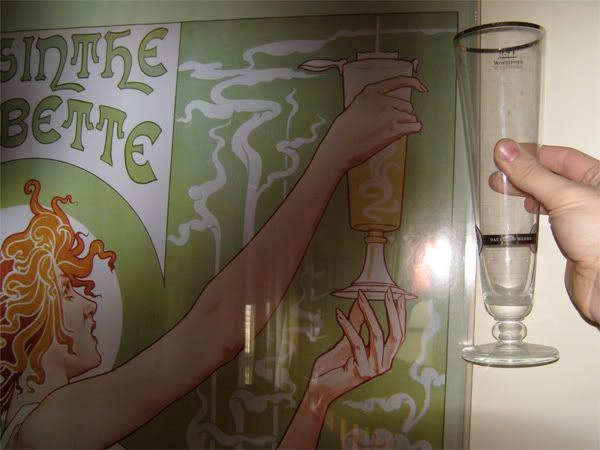 Yeah, my glass isn't exactly the same shape, but taking into account that the poster isn't life sized etc. I figure it at least is a place to start.
Since the poster lady hasn't finished filling her glass it's hard to tell where to stop, but the glass I am holding has a mark about an inch down from the rim, so that is what I've filled to. In my glass that equals 500 ml. So now let's do some math:
If she is doing a 1:3 ratio that means 125 ml of absinthe (about 4 oz).
If she is doing a 1:5 ratio that of course means 100 ml (or just over 3 oz).
I usually average 1 oz of absinthe per glass, so if I were planning to have 3 or 4 glasses, I guess this would be the most expedient way to go.
Any thoughts? Did I mess up the math on this or miss something obvious?